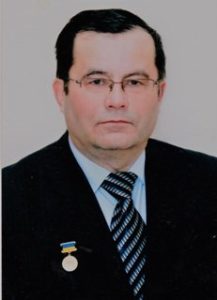 Professor the Department of Microprocessor Technologies and Systems, Doctor of Technical Sciences, Professor
Education and Career
1978 –  graduated from the Kiev Higher Engineering Radio Engineering School with  a degree in Automated Control Systems
1978 – 1999 – Engineer, Junior Researcher, Senior Researcher, Head of Laboratory in the Military Radiotechnical Academy, Kharkov
1999-2004 – Associate Professor KNAFU
2004-2006 – Professor KNAFU
2005 – Doctor of Technical Sciences in specialty 05.12.17 – radio engineering and television systems.
2006-2018 – Professor, Department of Radar Systems Engineering and Automation, NTU "KPI"
From 2018 to this time – Professor of the Department of microprocessor technologies and systems in KNURE
---
Educational activity
Lecture courses: design of devices on microcontrollers and FPGAs; simulation of digital signals using MATLAB and VHDL; digital signal processing techniques; broadband information transfer technology
International advanced training at the Research Institute of the Lublin Science and Technology Park, Lublin, Poland on the topic: "Innovative methods of distance learning using the Zoom and Moodle platforms", 1.5 ECTS.
---
Research activities
Member of the editorial board of the Bulletin of NTU "KPI" section "Informatics i modeling".
Member of the dissertation council of NTU "KPI" for the defense of candidate dissertations – D 64.050.07
Supervises the scientific work of graduate students in the specialty 172 "Telecommunications and Radio Engineering". Supervisor of 6 PhD thesises.
---
State Awards
State Prize of Ukraine in the field of science and technology in 2006 for work in the field of information technology
---
Publications and patents
He has more than 600 publications, among them there are three textbooks with a stamp of the Ministry of Education and Science of Ukraine, six monographies. More than 80 panents