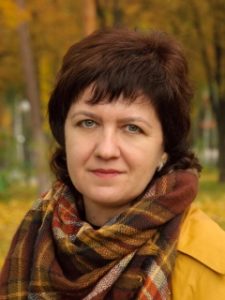 Head of Department of MTS, Scientific Secretary of EMC, Member of the NURE Alumni Association, Chief Editor of "Radiotekhnika", Candidate of Technical Sciences, Associate Professor
Education and Career
1993 – graduated with honors from Kharkov Electromechanical College of transport construction, specialty – telecommunications on the transport.
1998 – the techniques of the educational process of the department of communication networks Kharkov Technical University of Radio Electronics.
2000 – graduated with honors from the Kharkiv State Technical University of Radio Electronics (KTURE), specializing in multi-channel telecommunications.
2000 – Engineer of the educational process; 2002 – Assistant; 2003 – senior lecturer in Department of Communication Networks KTURE.
2012 – defended his thesis on the specialty 05.12.17 – radio and television systems. Thesis – "Methods to improve the noise immunity of information transmission channels request surveillance airspace".
2012 – assistant professor of communication service KNURE networks. In 2014 awarded the academic title of associate professor of communication networks.
2013-2016 – Deputy Dean of the Faculty of Radio Engineering for teaching work.
2016-2017 – Head of the Educational Division.
2014-2018 – Associate Professor, Department of Radio Technologies of Information and Communication Systems.
2018 – Head of the Department of Microprocessor Technologies and Systems.
---
Educational activity
Lecture courses: designing devices on microcontrollers and FPGAs; simulation of digital signals by means of MATLAB and VHDL; network information and communication technologies; neural technologies in ICT; cellular communication networks; methods of modeling information and communication systems; Architecture of AVR and PIC of microcontrollers; programming language Аssеmblеr; synthesis of digital devices on the FPGA; automated design of power systems; modeling processes in the energy sector.
---
Researcher activity
Head of the multifunctional educational and scientific laboratory «Information radiosystems and technologies».
Supervises the scientific work of graduate students in specialty 172 "Telecommunications and Radio Engineering".
Social activities
IEEE Member. IEEE Membership No. 96233517
---
State Awards
Certificate of honor KNURE 2017.
---
Publications and patents
She has more 280 publications, among them there are 7 textbooks, 2 monographs, 18 Ukrainian patents for utility model.