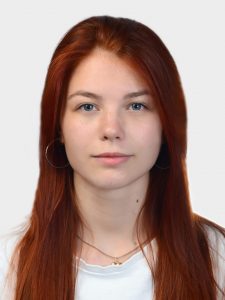 Laboratory assistant the Department of Microprocessor Technologies and Systems
Education and Career
In 2016, she graduated from a secondary school of I-II stages in the village of Bylbasovka, Donetsk region.
In 2020, she graduated from the «Slavyansk College of transport infrastructure» with a degree in «maintenance and repair of communication equipment and office equipment».
From 2020 to the present – student of the first (Bachelor's) level of higher education at KHNURE, specialty 172 "telecommunications and radio engineering" specialization "information and network engineering".
2021 – present – laboratory assistant of the MTS Department.