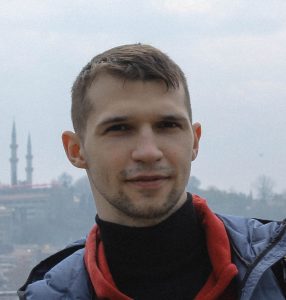 Аssistant of The Department of Microprocessor Technologies and Systems
Education and Career
In 2012. – Graduated from the Severodonetsk Polytechnic Lyceum.
In 2013. – Graduated from Severodonetsk Higher Vocational School as a car mechanic.
From 2017 to 2018 – worked as a programmer at NPO "Vertikal" Ltd.
In 2018 – graduated from KNURE (Bachelor's Degree) in Radio Engineering
In 2019 – graduated from KNURE (Master's Degree) with the speciality 122 "Computer Science", educational program is "Information and Communication Technologies".
2020 – till the present – graduate student of KNURE, ECM Department, specialty 126 "Information Systems and Technologies".
2022 – up to this moment – assistant of the MTS Department.
---
Publications and patents
Has more than 10 publications, 1 patent